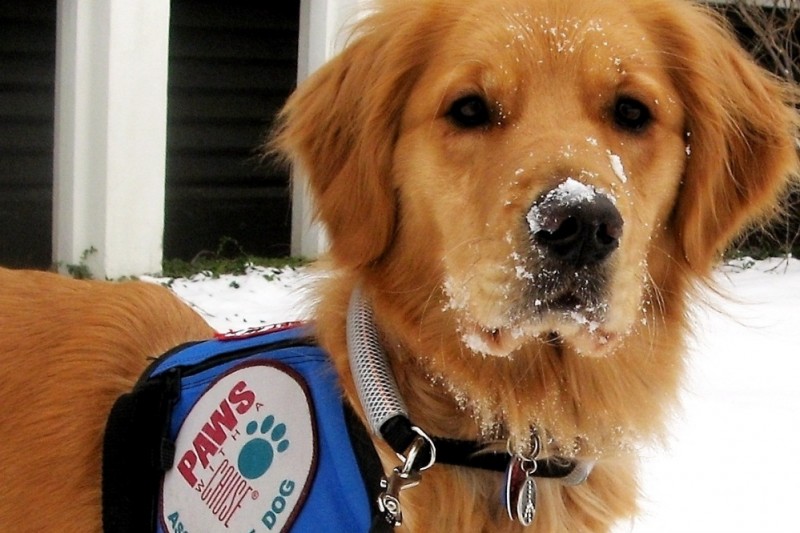 On January 2, 2016 I lost my sweet girl, my service dog, Maui. She died unexpectedly due to complications of an emergency surgery – surgery that would have saved her life if not for the blood clot that reached her heart less than 48 hours later and sent her into cardiac arrest. She was truly a piece of my heart and I miss her terribly.
This campaign began on GoFundMe (which is still viewable to honor the generous support I've received) to help me repay the wonderful family members who covered the cost of Maui's surgery. Incredibly, within 36 hours people from all corners of my life, people I have not met, people who already do so much for me or PAWS raised over $5500. I have been blown away by the outpouring of kindness and support. These contributions gave me peace of mind knowing I can repay my family and comforted me to know so many of you understand how life-changing Maui was for me
From the GoFundMe campaign, we raised an extraordinary $2944.46 in Maui's honor for Paws with a Cause – about 10% of what it costs to train and care for a future service dog, valued at $30,000. Encouraged by this generosity, I have decided to continue fundraising in the coming months to honor my sweet Maui. My goal is to raise an additional $7000 to reach an overall total of $10,000, or about one-third the cost of supporting a future service dog.
Any amount you are able to give will help me give back to the organization that completely changed my life for the better by supporting the care and training of future service dogs, including a successor dog for me. And of course, I greatly appreciate your willingness to share my story and this campaign with anyone you know who may be interested in helping.
From the bottom of my heart, thank you to all previous and future contributors. Your gifts have brought me tears of gratitude. They express your support for all that Maui brought to my life at a time when I need this comfort the most. I am blown away by your love and kindness. Thank you.
OUR STORY
It is difficult to describe the bond between a human and service dog. For me, it felt like a piece of my heart lived within Maui. She was not only my first service dog, but my first dog altogether. I adopted her in October 2008, during my second year of college, so that I could feel safe and secure going about my daily life using a wheelchair, not having to worry about things that many others don't give a second thought: What if I am all alone and I drop my keys, or my cell phone, or my mittens on a snowy day? What if I am out doing errands and I need to open a door that is not automatic? What if there is a light switch in my own home that I am unable to reach?
For so many "what if's," Maui was the answer. When I dropped my cell phone – my lifeline to my human helpers – in the middle of a dark, empty street on the way home, she was there to pick it up. When a cold, rainy wind blew my house keys off the spot where I hang them on my wheelchair and no person was around, she was. Countless nights I woke her from a deep sleep to fetch something important, and she would groggily stretch, wander over, bring it to me, and rest her sweet head on the edge of the bed to cuddle. She became the reason I could feel safe and independent in many situations, at home, at work, and out on the town.
I adopted Maui so she could take care of me, but I fell in love with her and with taking care of her. I don't know exactly when it happened, but early on I had the profound realization that her life's happiness and well-being were completely up to me. I felt so incredibly honored and humbled to have this role. So I learned her favorite toys, treats, and ways to be snuggled. I knew what she was feeling based on dozens of subtle cues – how she wagged her tail, the position of her ears, her grumbles, her whines, and the way she looked at me. I anticipated her needs, watched over her health, soothed her through ear infections and thunderstorms, all in an effort to show her the unconditional love and devotion that she showed me every day. For two years I kept a weekly blog, Tuesdays with Maui, about our adventures. I wrote songs about her and sang them to her and I played hide and seek with her. How else can I say it? She was my baby.
Maui turned nine years old this past December. Her age was beginning to show but I fully believed she would be with me for at least another year before retiring. On December 28, before boarding a plane to visit my family in Florida with my boyfriend, Jeff, I offered Maui the last bite of my breakfast, just as I had done every morning for years. She sniffed, turned away, and alarm bells started ringing in my head immediately. When we landed and arrived at my uncle and aunt's home, she ignored her dinner and I knew something was very wrong. This was the dog who sat by my side watching me eat with drool running down her chest and literally shook with excitement at dinner time. We spent the next three days going to and from vet clinics, running tests that would show Maui had a tumor growing on her spleen that had a small rupture and bled internally, causing her lethargy and lack of appetite. However, she was on the mend, eating again, and stable for the time being. I scheduled surgery for our first day home in Michigan.
The next day, on New Year's Eve, I called her over to me. She stood up carefully, took a few slow steps, and stopped, too uncomfortable to go any further. Jeff checked her gums, which were pale, a sign of anemia and that the tumor was leaking again. We took her in for emergency surgery. The cost was quoted between $2100-$2800 depending on how long she stayed, which was outside my own financial means. My Grandmother Berridge and my Uncle Glenn & Aunt Claudia Wiseman generously helped me cover the cost. I followed Maui to the crate where she would be prepped for surgery and I gave her my sweater to cuddle with while I was gone. She looked at me anxiously through the bars and I told her, "Remember, I always come back, sweet girl. I always come back."
Maui spent two nights at the clinic recovering before we were allowed to pick her up on January 2. My Uncle Glenn, Aunt Claudia, Jeff, and I did our best to make her comfortable on a bed of blankets. They helped me get on the floor to be next to her and pet her head. But then her breathing changed and we realized something was terribly wrong. Within seconds she stopped breathing altogether and lost consciousness from what we now know was her body going into cardiac arrest. The three of them gathered her up and rushed her to the ER – there was no time to load me or my wheelchair. Despite their speed, there was nothing that could be done. She was gone.
Within moments, my uncle and Jeff returned for me. Jeff told me the horrible news and I rode in a state of shock to the clinic, where my aunt stood holding the door open. I joined Maui in a private room, where she was laid on a couch under a blanket. I sat by her side while the painful reality washed over me. She was gone. For I don't know how long, I stroked her head and told her how much she meant to me. Finally, one last time, I thanked her for everything she has done for me, I told her I love her, and I said goodbye. Trying not to think of the way she used to look at me on the rare occasion when I had to leave her, I gathered my strength and left one last time.
In some ways, I have been preparing myself for this since the moment I applied for a service dog. We know in most cases we will outlive our animal friends and we hope – but cannot guarantee – that they will pass of old age, peacefully in their sleep. And I knew that I was opening my heart to an exceptional bond that would only be a temporary treasure. Yet in other ways, there is nothing that could have fully prepared me for this unexpected loss, for watching her go through this and watching this piece of my heart drift away so suddenly when we were supposed to be out of danger. I miss her terribly. My constant companion, my sweet, adorable, unwaveringly devoted baby girl is gone and for the first time in seven years when I am alone, I am actually alone.
Among many other important life lessons, Maui has taught me that I am a safer, happier, more confident version of myself with a dog by my side. As much as my heart aches from losing her, I know that I must think long-term and begin the process of adopting a successor dog, which could take up to a year. Her beautiful spirit could never be replaced and my love for her will remain. By the time another dog is available I will be ready to take in this new family member. With all the love and wisdom Maui gave me, I will learn this new dog's favorites and needs and we will find our own way to take care of each other.
With the comfort of knowing that I will be able to repay my family for Maui's surgery, my hope is to continue to give back, in Maui's honor, to the organization who brought us together and changed my life for the better. Any amount you are able to give is deeply, deeply appreciated. Regardless of whether you are able to contribute, please consider telling anyone you know who might be interested in helping.
From the bottom of my heart, thank you so much.
CAMPAIGN BACKGROUND
In the wake of Maui's passing, I created a GoFundMe campaign to help me repay the generous family members who came to Maui's aid when she needed it the most and covered the cost of her emergency surgery, amounting to $2100. Any additional funds would be donated to Paws with a Cause. Incredibly, within 36 hours, people from all corners of my life, people I have not met, people who already do so much for me or PAWS raised over $5000. Not only do I have the peace of mind that I am able to repay my family, together we donated 10% of the cost to train and care for one service dog, valued at $30,000. I am humbled, honored, and overwhelmed with gratitude. This is a truly amazing achievement.
Encouraged by this generosity, I have increased the funding goal to a total of $10,000 and moved the campaign to the PAWS website. GoFundMe removes 8% of raised funds, whereas the PAWS platform removes just 3%. This transition will allow Paws with a Cause to receive more of your contribution to help me and others bring home another service dog. If we reach this goal of $10,000, we will have contributed one-third the cost required to care for and train a future service dog. What an incredible accomplishment this would be.